About ServeDeck
WHAT IS SERVEDECK?
ServeDeck™ is a smart subscription cloud-based solution designed to significantly improve the organisational efficiency of facility operations and management.
ServeDeck's total productive maintenance CMMS solutions offer smart maintenance management solutions that facilitate the easy execution and management of the core tasks and processes of commercial buildings, shopping malls, retail stores, hotels, factories, universities, hospitals, townships, theme parks, and various service providers.
THE SMART CHOICE TOWARDS ORGANISATIONAL EFFICIENCY.
COMPLETE FACILITY OPERATIONS AND MANAGEMENT SOLUTIONS
IMPROVING COMMUNICATION BETWEEN WORK TEAMS
The core of ServeDeck's features and functions is to facilitate the modernisation of facility operations and management. Retrieve information, notifications, and updates right at your fingertips to aid in focusing on strategy and macromanagement.
EFFICIENTLY MANAGE RESOURCES
ServeDeck's platform allows work teams to coordinate and commit to their tasks in a cohesive, accountable, and efficient manner. At the same time, easily track and manage available resources such as assets and inventory, while generating reports and analytics that keep users in the loop at all times
DOUBLE DOWN AS THE OPERATIONS PLATFORM FOR ALL YOUR FUNDAMENTAL TASKS AND NEEDS
Specific yet broad-based, ServeDeck's hybrid platform delivers the best of CMMS and ERP, all housed in a highly scalable platform that solves the fundamental needs and requirements of companies and organisations within the property, retail, services, and hospitality sectors.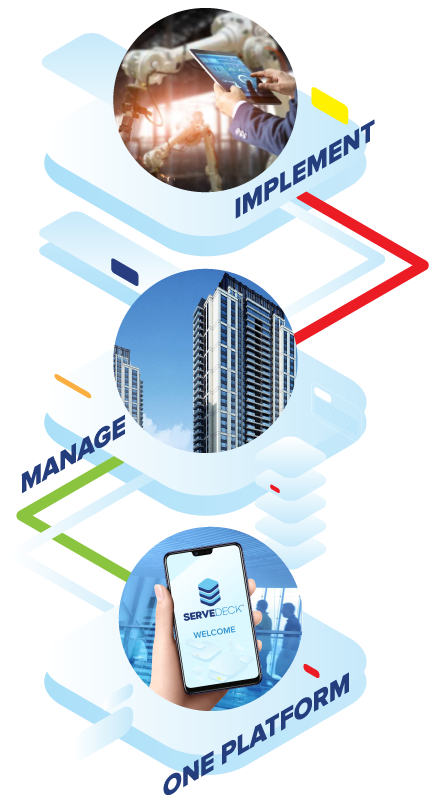 perfectly streamlined for
Managing the operations of multiple properties and facilities across various different locations remotely.
Seamlessly coordinating the tasks and efforts of assigned work teams, personnel, supervisors, contractors, and management.
Saving time and efficiently improving organisational efficiency across teams, facilities, departments, and business units.
Collectively managing valuable assets, inventory, and supplies across multiple locations in real-time.
Quickly retrieve insightful information to view, track, and analyse in order to generate reports.
Embracing digital transformation and equip your teams with the scalable tools needed to work anytime and anywhere.